Hunter Guindon
District 20 Kensington-Malpeque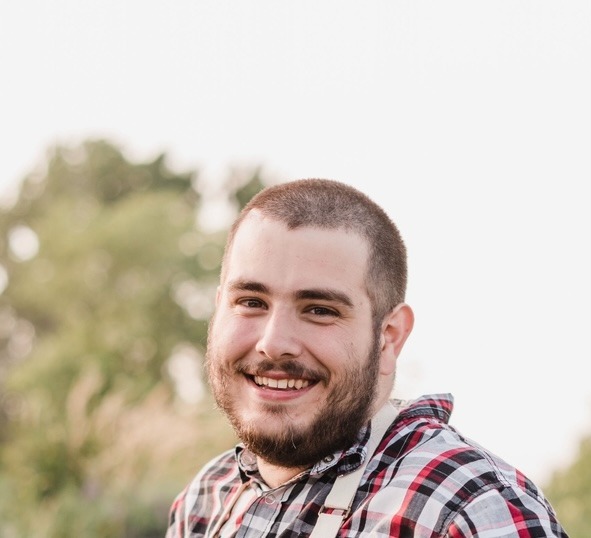 Kensington, PE - Chef and community health advocate, Hunter Guindon, today announced that he will be running as the Green Party candidate in District 20, Kensington-Malpeque.
In his decade on PEI, Hunter has worked in the service industry at numerous island restaurants, including The Table Culinary Studio, where he is currently the Executive Chef.
Hunter promotes island food producers by creating unique and ever-changing menus of hyper local cuisine. In his pursuit of real, local, sustainable ingredients, he has completely eliminated non-Canadian ingredients from his menus, and works hard to source at least 90% of his ingredients from within 30 minutes of the restaurant.
When he's not in the kitchen at The Table, at the Charlottetown farmers market, or trudging through fields chatting with a local farmer, Hunter can be found volunteering with different island non-profits, charities, or organizations. Through the formation of the "Local Supper Club" Hunter and fellow Island chefs have raised over $10,000 for different island charities.
"Islanders are known for their hospitable personalities, and "neighbourly" values. These same values are not reflected in the actions, intentions, and investments of our governments to date. I want to use the experiences I see and hear from Islanders, along with my own lived experience dealing with poorly designed, managed, and funded government programs to create critically important change for Islanders. I want to represent my neighbours as the Green candidate in District 20, Kensington – Malpeque to bring their voice to the legislature, and advocate for their needs — just as neighbours would," says Hunter.
As an Islander with a disability, Hunter is a deeply passionate and effective advocate for Islanders and Canadians with disabilities and complicated health needs. He was instrumental in the expansion of the provincial drug formulary to include Trikafta, a life-saving Cystic Fibrosis treatment which has completely transformed his life, and the life of many others with CF.
"I believe in the desperate need for establishing a universal basic income, establishing universal pharmacare, rapidly building affordable housing, eradicating food insecurity, eradicating poverty, and protecting the precious environment around us," says Hunter.
Hunter moved to PEI in 2013 to attend school at The Culinary Institute of Canada in Charlottetown. While attending school, Hunter fell deeply in love with the island, its people, its community, and its natural beauty. He now calls Springfield home with his wife, Kelsey.